Welcome to Mercury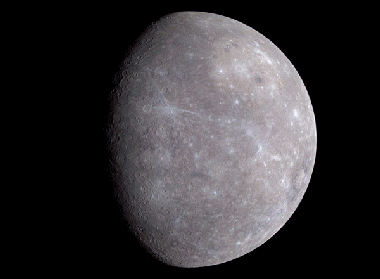 Mercury is the closest planet to the Sun and the smallest regular planet in the Solar System. This tiny world whizzes around the Sun, completing an orbit every 88 Earth days. Its nippy nature is probably why the Romans gave it its name, as Mercury was their messenger to the gods. The Ancient Greeks knew it as Hermes.
Although it might seem that Mercury is in a rush to get around the Sun, it isn't quite as speedy at spinning on its axis. It takes 59 Earth days to do so, by which time the planet is about two-thirds of the way through its 88 day-long year. This has a strange effect when it comes to the Sun rising and setting as Mercury ends its day in a very different position to where it started. In fact, it actually takes 176 Earth days for the Sun to fully rise and fall in the same place in the sky on Mercury.
Mercury has a diameter of 4,878 km (3,031 miles), making it the smallest planet in the Solar System. It is about a third of the size of Earth (12,756 km / 7,926 miles), but slightly larger than Earth's Moon (3,476 km / 2,159 miles). Mercury is smaller than Ganymede (5,262 km / 3,270 miles), one of Jupiter's moons and the largest moon in the Solar System, and Titan (5,151 km / 3,201 miles), which is Saturn's largest moon.
Mercury is a very cratered planet, being very similar to Earth's Moon in appearance. Craters are caused by rocks, called meteorites, crashing into the surface of the planet over billions of years. Mercury lacks almost any atmopshere, and is thought to be geologically inactive which means that no volcanoes or quakes take place on the planet to cause its appearance to change over time.
Being so close to the Sun means that Mercury obviously receives a lot of heat from its neighbourly star. On the side of Mercury in direct sunlight, temperatures at its surface can reach 427 °C (800 °F). However, on the side facing away from the Sun, temperatures can plummet to an extremely chilly -183 °C (-297 °F). This is because Mercury's very slow rotation means that the night side of the planet stays in darkness for weeks, and the lack of any atmosphere prevents the retention of heat. In comparison, Venus, the second planet from the Sun, has a very thick atmosphere, so the heat it receives from the Sun gets trapped. This actually causes Venus' temperatures to exceed those of Mercury, being an average of 462 °C (864 °F).
Something unusual about Mercury, especially considering how close it is to the Sun and how hot it can get, is that there may be frozen water on its surface. Mercury is the least tilted of any of the planets in the Solar System, which means that its north and south poles don't receive direct sunlight, and the bottom of some of its deepest craters never do as the crater walls shadow them. But how did it get there? More than likely it was delivered to Mercury on board comets, asteroids or meteoroids travelling around the Solar System and smashing into the planet and releasing their watery contents, leaving it there to freeze and remain for eternity.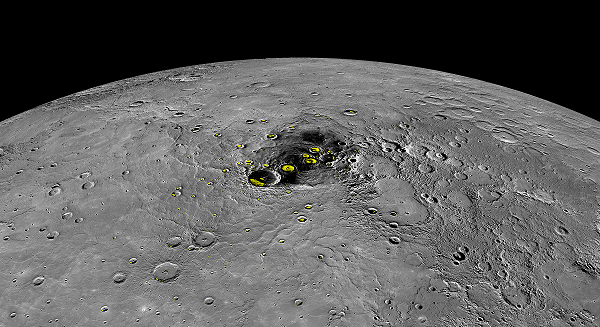 All of the inner planets are made up of a core, a mantle and a crust. The core is the centre of the planet. The mantle is a mostly rocky area below the crust and the crust is like the shell of a planet. Most of Earth's crust is covered by water, making the oceans, with thicker parts of crust forming the continents that make land. Earth's core is made up of a solid iron inner core surrounded by a liquid iron and nickel outer core. The churning movement of the outer core is what causes Earth to have a magnetic field. Mercury also has a magnetic field, something that scientists once thought unlikely due to its small size. However, it appears that Mercury's core is surprisingly large when compared to the planet, making up 42% of its volume. Earth's core makes up 17% of its volume. The large size of its core also suggests that Mercury may once have been a much larger planet. Did something collide with it to blast away most of the planet around its core?
Mercury is one of only two planets in the Solar System not to have a moon. The other moonless planet is Venus. Mercury might not have a moon simply because it is too close to the Sun. Moons are thought to exist for three reasons. They are either asteroids captured by the gravity of a planet, which is likely how Mars came to have Phobos and Deimos as moons. Or they formed in a disc of material around a planet, which is likely how the outer planets got most of their moons. Or they formed from a collision with another object. It is thought that Earth's Moon formed when something collided with an early Earth, and its Moon is actually part of what was once Earth. If any of these things happened with Mercury, it's more than likely that the Sun would have absorbed anything that could have become a moon.
A lot of what we know about the planets in the Solar System comes from exploration of them. With Mercury being the closest planet to the Sun, it is quite difficult to send spacecraft to it. So far, only two missions have visited Mercury. The first was Mariner 10 which launched in 1973 and completed flybys of Mercury in 1974 and 1975. The second was MESSENGER, which took off in 2004 and entered orbit in 2011. Its mission ended in 2015 when it was deliberately sent to crash into the surface of Mercury. Mariner 10 mapped about 45% of the surface of Mercury, and discovered the presence of gasses surrounding its surface, its magnetic field and large core. MESSENGER discovered that Mercury had a volcanic history, identified water ice in its craters, and photographed most of the planet's surface. BepiColombo is expected to launch in October 2018 and should reach Mercury in 2025. It is a joint European and Japanese mission.