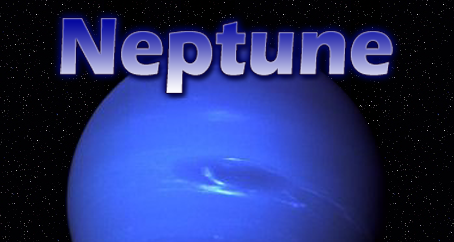 Neptune's Moons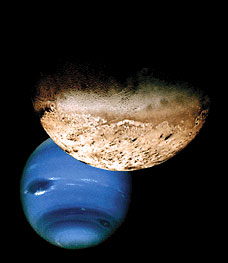 Spinning around Neptune are thirteen moons. These moons vary in shape and size, with Triton being the largest and Psamathe the smallest. Because Neptune is so far away from Earth, it is very difficult to see the planet and usually it can only be spotted with a telescope. Moons are usually much smaller than planets so finding them is even more difficult. Triton, the largest of Neptune's moons, was discovered on 10th October 1846 by William Lassell, only seventeen days after Neptune itself was first observed (Lassell also discovered a moon of Saturn and two moons of Uranus). However, it took over 100 years until another moon was discovered orbiting Neptune. Nereid was this moon, discovered by Gerard P. Kuiper in 1949. Neptune's closest moons, which orbit within Neptune's first ring, were discovered by the space probe Voyager 2 when it visited Neptune in 1989. The planet's most distant moons were discovered in 2002 and 2003 by various astronomers. Although we now know of the existence of thirteen moons orbiting Neptune, it is likely that there are more moons waiting to be found!
The planet Neptune is named after the Roman god of the Sea (the Greek equivalent is Poseidon). Because of this, the names of all its moons are linked to mythological sea creatures, as shown in the table below. It should be noted that the ancient Romans and Greeks didn't name these objects, since they didn't know they existed! However, because the planets that the Romans and Greeks did know about were named after their gods (Mercury, Venus, Mars, Jupiter and Saturn), it is still customary that newly discovered objects in the Solar System are also named after Roman and Greek gods. The only exceptions are the names of the moons of Uranus which are all names after characters in plays and poems (mostly written by Shakespeare).
The largest of Neptune's moons, Triton, orbits Neptune backwards. It goes in an opposite direction to the rotation to the planet. This kind of orbit is what scientists like to call retrograde, which makes them sound clever! There are other moons which orbit Neptune and other planets backwards, but Triton is the only large moon to do it. This unusual orbit is causing Triton to drop out of its orbit and it is thought that in millions of years, the moon will either break up, possibly forming a ring, or crash into Neptune. Triton is also the only spherical moon of Neptune - all of the others are irregularly-shaped, and resemble asteroids - and is similar to Earth's moon in size. There isn't a lot of other information known about the other moons of Neptune although it is thought that the six closest moons to Neptune are not the original moons, and that they were actually made up of collisions of rubble in a disc orbiting closely to the planet. The disc of rubble was the remnants of earlier moons which broke up when Triton was captured by the gravity of Neptune. Triton's initial orbit was eccentric (all over the place!) and the opposing pulls of gravity and friction of Neptune and Triton ended up pulling the moons in between them apart!
The most distant moons of Neptune are Psamathe and Neso. These moons have the largest orbits of any of the moons in the Solar System and so take the longest time to orbit their planet - about 25 years. These small moons are 125 times the distance that the Moon is away from Earth.
As the most distant regular planet in the Solar System, Neptune isn't easy to observe. Only one space probe has visited the planet and its moons, and there are no plans to send another in the near future. Almost all of Neptune's moons are small so it is difficult to know much about them. This means that there is still much more to be learned about these moons and more discoveries to be made. As technology improves and as we become more and more capable of looking deeper into space, there is a good chance that our knowledge of these mysterious objects will greatly increase over time!
Table of Neptune's Moons
Name and Image of Moon
Date of Discovery
Discoverer
Diameter
Average distance from Neptune
Length of time to complete an orbit
Origin of moon's name
Naiad

1989
Voyager 2
67 km
48,227 km
6 hours, 57 minutes
The Naiads were nypmhs who lived in and ruled brooks, springs and fountains
Thalassa

1989
Voyager 2
83 km
50,075 km
7 hours, 28 minutes
Greek word for sea. Thalassa was the daughter of Aether and Hemera
Despina

1989
Voyager 2
152 km
52,526 km
8 hours, 2 minutes
A nymph, daughter of Poseidon (Neptune) and Dameter
Galatea

1989
Voyager 2
175 km
61,953 km
10 hours, 18 minutes
A Nereid loved by Polyphemus.
Larissa

1989
Voyager 2
195 km
73,548 km
13 hours, 19 minutes
Daughter of Pelasgus
Proteus

1989
Voyager 2
418 km
117,647 km
1 day, 3 hours
A sea god who could change his shape.
Triton

1846
William Lassell
2707 km
354,800 km
5 days, 21 hours
A god of the sea, son of Poseidon (Neptune). In popular culture, Triton is the father of Arial in The Little Mermaid!
Nereid

1949
Gerard P Kuiper
340 km
5,513,400 km
360 days, 3 hours
A Nereid is a sea nymph. There are 50 of them, daughters of Nereus and Doris.
Halimede
2002
Matthew J Holman
John J Kavelaars
Tommy Grav
Wesley C Fraser
Dan Milisavljevic
60 km
15,728,000 km
1880 days
Halimede is one of the Nereids (sea nymphs), a daughter of Nereus and Doris.
Sao
2002
Matthew J Holman
John J Kavelaars
Tommy Grav
Wesley C Fraser
Dan Milisavljevic
38 km
22,422,000 km
2914 days
One of the Nereids (sea nypmhs). Associated with sailing and safety at sea, referred to as "the rescuer".
Laomedeia
2002
Matthew J Holman
John J Kavelaars
Tommy Grav
Wesley C Fraser
Dan Milisavljevic
38 km
23,571,000 km
3168 days
A Nereid (sea nymph), one of Nereus and Doris' 50 daughters.
Psamathe
2002
Scott S Sheppard
David C Jewitt
28 km
46,695,000 km
9116 days
A Nereid (sea nymph), one of Nereus and Doris' 50 daughters.
Neso
2003
Matthew J Holman
Brett J Gladman
60 km
48,387,000 km
9374 days
A Nereid (sea nymph), one of Nereus and Doris' 50 daughters.