The Inner Planets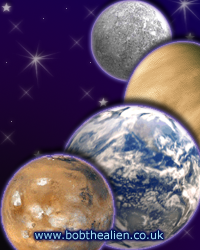 The Inner Planets are Mercury, Venus, Earth and Mars. These are the four planets closest to the Sun. Although each planet is very different from each other, they do all share a number of characteristics. The main similarities are that they all have solid surfaces, are fairly similar in size, especially when compared with the Outer Planets, possess a small number of moons and take a relatively short length of time to complete an orbit around the Sun. In space terms, they are also quite close to each other. The diagram below shows the orbits of the four Inner Planets. It shows how close they are to each other when compared to Jupiter, the first of the Outer Planets.

Despite their similarities, each planet has its own characteristics, although none of them, apart from Earth, are known to be able to support life. Below is a short description of each planet. For a more detailed look at the planet, select on the planet's name.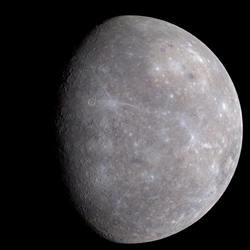 Mercury is the closest planet to the Sun, and the second smallest in the Solar System. It has a surface covered in craters, just like Earth's Moon, and has temperatures which can reach up to 350 °c on its sunlit side and -170°c on its dark side. A year on Mercury (the length of time it takes for the planet to orbit the Sun) lasts for only 88 days, although a day (the length of time it takes for the planet to turn completely on its axis) takes 59 days. Mercury has no atmosphere, so the sky appears dark all the time.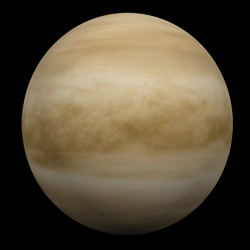 Venus is the only inner planet in the Solar System to turn in a clockwise direction on its axis, and it does this very slowly, taking 243 Earth days to do so (so a day on Venus is 243 days long). This is even longer than a year on Venus, which is 225 Earth days long. Venus is covered in poisonous clouds containing sulphuric acid, and an atmosphere containing dangerous carbon monoxide. Venus' surface remained a mystery because of its thick cloud cover until 1990-1994 when special imaging equipment on the Magellan space craft managed to look through the clouds to reveal a volcanic surface. Temperatures on Venus reach up to 480°c because heat from the Sun cannot escape through the thick atmosphere, which acts like a greenhouse covering the entire planet.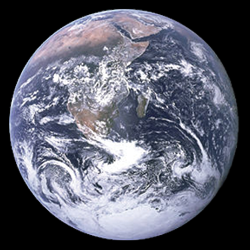 Earth is the only planet in the Solar System known to contain life. It takes 23 hours and 56 minutes for a day to take place on Earth (the amount of time it takes the planet to turn completely on its axis) and 365 and a quarter days for it to complete one orbit around the Sun. Every four years, an extra day is added to the year to make up for the extra quarter of a day it takes for the planet to orbit the Sun. Earth is the only planet to contain water in its three forms, as a solid (ice), as a liquid (sea, rain, etc.) and as a gas (steam, clouds, atmosphere). It is still geologically living, meaning that volcanoes, earthquakes and weather still form and reform its surface. Its thin atmosphere is made up mainly of Nitrogen, giving the sky a blue colour, and Oxygen, placed into the atmosphere by the presence of life. Hundreds of years ago, people believed Earth to be the centre of the universe, although astronomers later figured out that it wasn't. Earth is the biggest of the Inner Planets, and has its own moon orbiting it.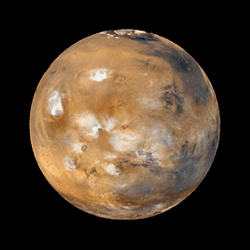 Mars is a small red planet with a very thin atmosphere of Carbon Dioxide. It is believed that it once had flowing water. The planet has a rusty surface and a pink sky. It is covered in rocks and impact craters, but has seasons like Earth and water droplets can form frost, fog and clouds. The Solar System's biggest volcano, Olympus Mons, is situated on Mars, and is likely to have erupted millions of years ago when dinosaurs lived on Earth, maybe even earlier. Mars also has huge valleys, which people believe were created when volcanic eruptions tore up the ground. Mars takes 687 days to orbit the Sun (so a year is 687 days long on Mars), but a day on Mars is 24 hours and 37 minutes long, about forty minutes longer than a day on Earth. The planet has two small moons orbiting it.
After the Inner Planets is the Asteroid Belt, an area of thousands of rocks of all shapes and sizes, including the dwarf planet Ceres. This belt is millions of kilometres wide, and separates the Inner Planets from the Outer Planets.