Saturn's Moons

Saturn has 83 known moons orbiting it. Saturn's moons vary in shape and size from very large spherical objects to small fragments of rocks. Saturn has eight large major moons. These are Mimas, Enceladus, Tethys, Dione, Rhea, Titan, Hyperian and Iapetus. With the exception of Hyperian, all of them are spherical. Hyperian has a rather odd shape and resembles a sponge!
Titan is Saturn's largest moon. It was discovered in 1655 by the Dutch astronomer Christiaan Huygens and is the second largest moon in the solar system. The solar system's largest moon is Ganymede which orbits Jupiter. Titan is unique as it's the only moon to have a substantial atmosphere. Mimas is a moon with a huge crater that makes it look a little like Darth Vader's Death Star from Star Wars, and Enceladus appears to spew out jets of water and possibly has an ocean under its icy outer layer.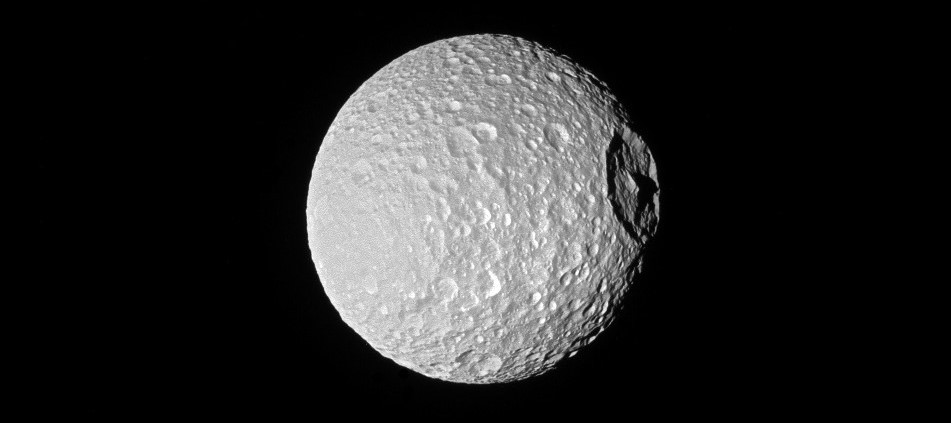 Saturn's inner moons and four of its major moons are located within the planet's famous ring system. Its four other major moons orbit beyond the rings. All of these moons are classed as regular moons which means that they formed while orbiting Saturn. They orbit in the same direction that Saturn rotates. This is known as a prograde orbit. They also orbit on a similar plane to Saturn's equator and rings.

At a much greater distance out are Saturn's irregular outer moons. Their orbits are a bit all over the place with some being circular while others are oval-shaped, and they travel at differing inclinations, meaning that they seem to go around the planet diagonally rather that around its equator. Irregular moons are ones that have been captured by Saturn's gravitational pull.

Below is a list of Saturn's moons, grouped into colourful categories.
---
Shepherd Group
Regular moons which are located nearby Saturn's rings. The moons are in pairs with one moon on the inner side of a ring and the other on the outer side of it. The two moons appear to hold the ring in place by "shepherding" it as they orbit the planet.
Co-orbital Moons
Regular moons which appear to share their orbit with another moon, travelling around Saturn together. Epimetheus and Janus orbit with each other, while Telesto and Calypso orbit with their mother moon Tethys. Helene and Polydeuces keep Dione company.
G Ring Group
A regular moon with a group all to itself! This moon is Aagaeon and it orbits inside Saturn's G Ring.
Alkyonides
Three small regular moons orbiting between the larger moons Mimas and Enceladus. They are named after three of the seven daughters of the giant Alcynoeus from Greek mythology.
Major Moons
Saturn's largest moons, all big enough to be spherical in shape, with the exception of Hyperion which looks a bit like a shrivelled-up sponge! Their large size means they were the first moons of Saturn to be discovered.
Inuit Group
Eight irregular prograde moons orbiting at a distance of 11 to 18 million kilometres from Saturn, inclined at 40 to 50 degrees and with varying orbital eccentricities. In other words, some travel in circular orbits, others are more egg-shaped. They are all reddish in colour and are believed to have formed from the break up of a larger object. Prograde means they orbit in the same direction as Saturn spins.
Norse Group
A large group of irregular retrograde moons orbiting at a distance of 12 to 24 million kilometres from Saturn, inclined at 136 to 175 degrees and in orbits of all shapes and sizes. Some of the moons are separated into further subgroups, known as the Skathi group and the Narvi group. With the exception of Phoebe, all moons in the Norse group are named after figures from Norse mythology, mythology from Scandinavian regions.
Gallic Group
Four irregular prograde moons orbiting at a distance of 16 to 19 million kilometres from Saturn, inclined at 35 to 45 degrees and with similar oval-shaped orbits. The moons are named after figures in Gallic or Celtic mythology, mythology from Ireland, Scotland and Wales and parts of England and France.
Ungrouped
Moons that either haven't been put into a group yet, or don't appear to fit the category to be part of any of the groups so are left ungrouped. There is currently only one ungrouped moon of Saturn. It also doesn't yet have a name, and instead goes under the codename S/2004 S 24.
---
List of Saturn's Moons
Name of Moon
Diameter
Orbital Distance
Length of Orbit
Discovered
Discoverer
Group
S/2009 S 1
0 km


0 miles

117,000 km


72,704 miles

11 hours
2009
Cassini Imaging Team
Shepherd
Pan
28 km

(34 x 31 x 20)




18 miles

133,584 km


83,009 miles

14 hours
1990
Mark Robert Showalter
Shepherd
Daphnis
8 km


5 miles

136,505 km


84,824 miles

14 hours
2005
Cassini Imaging Team
Shepherd
Atlas
30 km


19 miles

137,670 km


85,548 miles

14 hours
1980
Richard Terrile
Shepherd
Prometheus
86 km


54 miles

139,380 km


86,611 miles

15 hours
1980
Stewart A. Collins
Shepherd
Pandora
81 km


51 miles

141,720 km


88,065 miles

15 hours
1980
Stewart A. Collins
Shepherd
Epimetheus
116 km


72 miles

151,422 km


94,094 miles

17 hours
1966
Richard Walker
Co-orbital
Janus
179 km


111 miles

151,472 km


94,125 miles

17 hours
1966
Audouin Dollfus
Co-orbital
Aegaeon
1 km


0 miles

167,500 km


104,085 miles

19 hours
2008
Carolyn Porco (Cassini Imaging Team)
G-Ring
Mimas
396 km


246 miles

185,404 km


115,210 miles

23 hours
1789
William Herschel
Major
Methone
3 km


2 miles

194,440 km


120,825 miles

24 hours
2004
Cassini Imaging Team
Alkyonides
Anthe
2 km


1 miles

197,700 km


122,851 miles

25 hours
2007
Cassini Imaging Team
Alkyonides
Pallene
4 km


3 miles

212,280 km


131,911 miles

27 hours
2004
Cassini Imaging Team
Alkyonides
Enceladus
504 km


313 miles

237,950 km


147,862 miles

33 days
1789
William Herschel
Major
Calypso
21 km


13 miles

294,619 km


183,076 miles

45 hours
1980
Dan Pascu, P. Kenneth Seidelmann, William A. Baum, Douglas G. Currie
Co-orbital
Telesto
25 km


15 miles

294,619 km


183,076 miles

45 hours
1980
Bradford A. Smith, Harold Reitsema, Stephen M. Larson, John W. Fountain
Co-orbital
Tethys
1,062 km


660 miles

294,619 km


183,076 miles

45 hours
1684
Giovanni Domenico Cassini
Major
Dione
1,123 km


698 miles

377,396 km


234,514 miles

66 hours
1684
Giovanni Domenico Cassini
Major
Helene
35 km


22 miles

377,396 km


234,514 miles

66 hours
1980
Pierre Laques, Jean Lecacheux
Co-orbital
Polydeuces
3 km


2 miles

377,396 km


234,514 miles

66 hours
2004
Cassini Imaging Team
Co-orbital
Rhea
1,528 km


949 miles

527,108 km


327,545 miles

108 hours
1672
Giovanni Domenico Cassini
Major
Titan
5,149 km


3,200 miles

1,221,930 km


759,307 miles

16 days
1655
Christiaan Huygens
Major
Hyperion
270 km


168 miles

1,481,010 km


920,300 miles

21 days
1848
William Bond, George Bond, William Lassell
Major
Iapetus
1,469 km


913 miles

3,560,820 km


2,212,694 miles

79 days
1671
Giovanni Domenico Cassini
Major
S/2019 S 1
5 km


3 miles

11,221,100 km


0 miles

444 days
2019
Edward Ashton, Bredd J. Gladman, Jean-Marc Petit, Mike Alexanderson
Inuit
Kiviuq
17 km


11 miles

11,307,500 km


7,026,481 miles

449 days
2000
J. J. Kavelaars
Inuit
Ijiraq
13 km


8 miles

11,348,500 km


7,051,958 miles

451 days
2000
J. J. Kavelaars, Brett J. Gladman
Inuit
Phoebe
213 km


132 miles

12,905,900 km


8,019,726 miles

548 days
1899
William Henry Pickering
Norse
Paaliaq
25 km


16 miles

15,012,800 km


9,328,954 miles

687 days
2000
J. J. Kavelaars
Inuit
Skathi
8 km


5 miles

15,563,600 km


9,671,221 miles

728 days
2000
Brett J. Gladman and team
Norse
S/2004 S 37
4 km


2 miles

15,822,400 km


9,832,039 miles

753 days
2019
Scott S. Sheppard and team
Norse
S/2007 S 2
6 km


4 miles

15,971,500 km


9,924,690 miles

808 days
2007
Scott S. Sheppard and team
Norse
Albiorix
29 km


18 miles

16,222,700 km


10,080,786 miles

783 days
2000
Matthew J. Holman and team
Gallic
Bebhionn
6 km


4 miles

16,900,900 km


10,502,219 miles

835 days
2004
Scott S. Sheppard and team
Gallic
S/2004 S 29
4 km


2 miles

17,202,800 km


10,689,820 miles

859 days
2019
Scott S. Sheppard and team
Inuit
Skoll
5 km


3 miles

17,438,300 km


10,836,160 miles

878 days
2006
Scott S. Sheppard and team
Norse
S/2004 S 31
4 km


2 miles

17,449,700 km


10,843,244 miles

854 days
2019
Scott S. Sheppard and team
Inuit
Erriapus
10 km


6 miles

17,705,500 km


11,002,198 miles

871 days
2000
J. J. Kavelaars and team
Gallic
Tarqeq
7 km


4 miles

17,724,200 km


11,013,818 miles

888 days
2007
Scott S. Sheppard and team
Inuit
Siarnaq
39 km


24 miles

17,937,000 km


11,146,052 miles

896 days
2000
J. J. Kavelaars, Brett J. Gladman
Inuit
Tarvos
15 km


9 miles

18,243,800 km


11,336,697 miles

926 days
2000
J. J. Kavelaars, Brett J. Gladman
Gallic
Hyrrokkin
8 km


5 miles

18,348,800 km


11,401,944 miles

932 days
2004
Scott S. Sheppard and team
Norse
Greip
5 km


3 miles

18,379,000 km


11,420,711 miles

921 days
2006
Scott S. Sheppard and team
Norse
Mundilfari
7 km


4 miles

18,470,800 km


11,477,755 miles

953 days
2000
Brett J. Gladman and team
Norse
S/2004 S 13
6 km


4 miles

18,594,700 km


11,554,747 miles

933 days
2004
Scott S. Sheppard and team
Norse
S/2006 S 1
5 km


3 miles

18,839,700 km


11,706,990 miles

1015 days
2006
Scott S. Sheppard and team
Norse
S/2007 S 3
5 km


3 miles

19,143,500 km


11,895,771 miles

978 days
2007
Scott S. Sheppard and team
Norse
Suttungr
7 km


4 miles

19,166,800 km


11,910,250 miles

1017 days
2000
Brett J. Gladman and team
Norse
S/2004 S 20
4 km


2 miles

19,188,100 km


11,923,485 miles

990 days
2019
Scott S. Sheppard and team
Norse
Jamsaxa
6 km


4 miles

19,197,900 km


11,929,575 miles

965 days
2006
Scott S. Sheppard and team
Norse
Narvi
7 km


4 miles

19,226,600 km


11,947,409 miles

1004 days
2003
Scott S. Sheppard and team
Norse
Bergelmir
5 km


3 miles

19,290,200 km


11,986,930 miles

1006 days
2004
Scott S. Sheppard and team
Norse
Hati
5 km


3 miles

19,435,300 km


12,077,095 miles

1039 days
2004
Scott S. Sheppard and team
Norse
S/2004 S 17
4 km


2 miles

19,574,300 km


12,163,470 miles

986 days
2004
Scott S. Sheppard and team
Norse
S/2004 S 12
5 km


3 miles

19,736,400 km


12,264,199 miles

1046 days
2004
Scott S. Sheppard and team
Norse
S/2004 S 27
6 km


4 miles

19,982,800 km


12,417,312 miles

1033 days
2019
Scott S. Sheppard and team
Norse
Farbauti
5 km


3 miles

20,101,600 km


12,491,134 miles

1085 days
2004
Scott S. Sheppard and team
Norse
Thrymr
8 km


5 miles

20,236,700 km


12,575,085 miles

1094 days
2000
Brett J. Gladman and team
Norse
Bestla
8 km


5 miles

20,432,100 km


12,696,507 miles

1084 days
2004
Scott S. Sheppard and team
Norse
S/2004 S 7
6 km


4 miles

20,576,700 km


12,786,361 miles

1140 days
2004
Scott S. Sheppard and team
Norse
Aegir
6 km


4 miles

20,598,900 km


12,800,156 miles

1117 days
2004
Scott S. Sheppard and team
Norse
S/2004 S 30
3 km


2 miles

20,733,300 km


12,883,673 miles

1084 days
2019
Scott S. Sheppard and team
Norse
S/2004 S 22
3 km


2 miles

20,737,100 km


12,886,034 miles

1080 days
2019
Scott S. Sheppard and team
Norse
S/2004 S 25
4 km


2 miles

20,814,800 km


12,934,317 miles

1095 days
2019
Scott S. Sheppard and team
Norse
S/2004 S 32
4 km


2 miles

20,963,400 km


13,026,657 miles

1175 days
2019
Scott S. Sheppard and team
Norse
S/2004 S 23
4 km


2 miles

21,444,300 km


13,325,488 miles

1164 days
2019
Scott S. Sheppard and team
Norse
S/2006 S 3
6 km


4 miles

21,607,300 km


13,426,776 miles

1227 days
2006
Scott S. Sheppard and team
Norse
S/2004 S 35
6 km


4 miles

21,864,500 km


13,586,600 miles

1208 days
2019
Scott S. Sheppard and team
Norse
Kari
6 km


4 miles

21,988,000 km


13,663,343 miles

1234 days
2006
Scott S. Sheppard and team
Norse
S/2004 S 28
4 km


2 miles

22,134,400 km


13,754,316 miles

1197 days
2019
Scott S. Sheppard and team
Norse
Loge
5 km


3 miles

22,563,800 km


14,021,145 miles

1313 days
2006
Scott S. Sheppard and team
Norse
S/2004 S 38
4 km


2 miles

22,616,000 km


14,053,582 miles

1296 days
2019
Scott S. Sheppard and team
Norse
Fenrir
4 km


2 miles

22,753,400 km


14,138,963 miles

1260 days
2004
Scott S. Sheppard and team
Norse
Ymir
19 km


12 miles

22,841,900 km


14,193,957 miles

1312 days
2000
Brett J. Gladman and team
Norse
Surtur
6 km


4 miles

23,065,900 km


14,333,150 miles

1298 days
2006
Scott S. Sheppard and team
Norse
S/2004 S 33
4 km


2 miles

23,087,600 km


14,346,635 miles

1362 days
2019
Scott S. Sheppard and team
Norse
S/2004 S 24
3 km


2 miles

23,326,300 km


14,494,963 miles

1318 days
2019
Scott S. Sheppard and team
Ungrouped
S/2004 S 21
3 km


2 miles

23,356,200 km


14,513,543 miles

1365 days
2019
Scott S. Sheppard and team
Norse
S/2004 S 39
3 km


2 miles

23,463,800 km


14,580,405 miles

1278 days
2019
Scott S. Sheppard and team
Norse
S/2004 S 36
3 km


2 miles

23,576,500 km


14,650,437 miles

1354 days
2019
Scott S. Sheppard and team
Norse
Fornjot
6 km


4 miles

24,451,700 km


15,194,286 miles

1491 days
2004
Scott S. Sheppard and team
Norse
S/2004 S 34
3 km


2 miles

24,865,000 km


15,451,111 miles

1413 days
2019
Scott S. Sheppard and team
Norse
S/2004 S 26
4 km


2 miles

26,701,600 km


16,592,374 miles

1624 days
2019
Scott S. Sheppard and team
Norse